Thank you for visiting! I am a writer, pianist, and podcast producer based in Austin, Texas. I have many interests and passions, including Russian history, language, and culture. While undertaking graduate studies at the University of Texas at Austin, I focused on the history of radio broadcasting to the Soviet sphere, primarily investigating the history of the BBC and the work of the Russian Service during the Cold War. I have thus developed a deep interest in the use of media as a diplomatic tool and the applications of history to modern media, such as social media and podcasts.
In tandem with my research, I launched an international academic podcast for the Center for Russian, East European, and Eurasian Studies at UT Austin called The Slavic Connexion which has listeners in over 130 countries worldwide. I now use the show as a model for other podcasts I have been spearheading to foster dialogue and cross-cultural audio exchanges. From giving clinics to creating branding and sound design for new podcasts, I have helped people and organizations globally learn how to record, produce, and promote their podcast.
My book on the BBC Russian Service DJ Seva Novgorodsev, published with Academic Studies Press, is now out everywhere.
Articles
https://pipelineartists.com/the-art-of-war/
https://pipelineartists.com/putin-stole-it-from-me/
https://www.rbth.com/education/332059-teaching-russian-online-texas
https://www.rbth.com/lifestyle/330841-american-music-russia-language
https://economics.hse.ru/en/io/news/297328889.html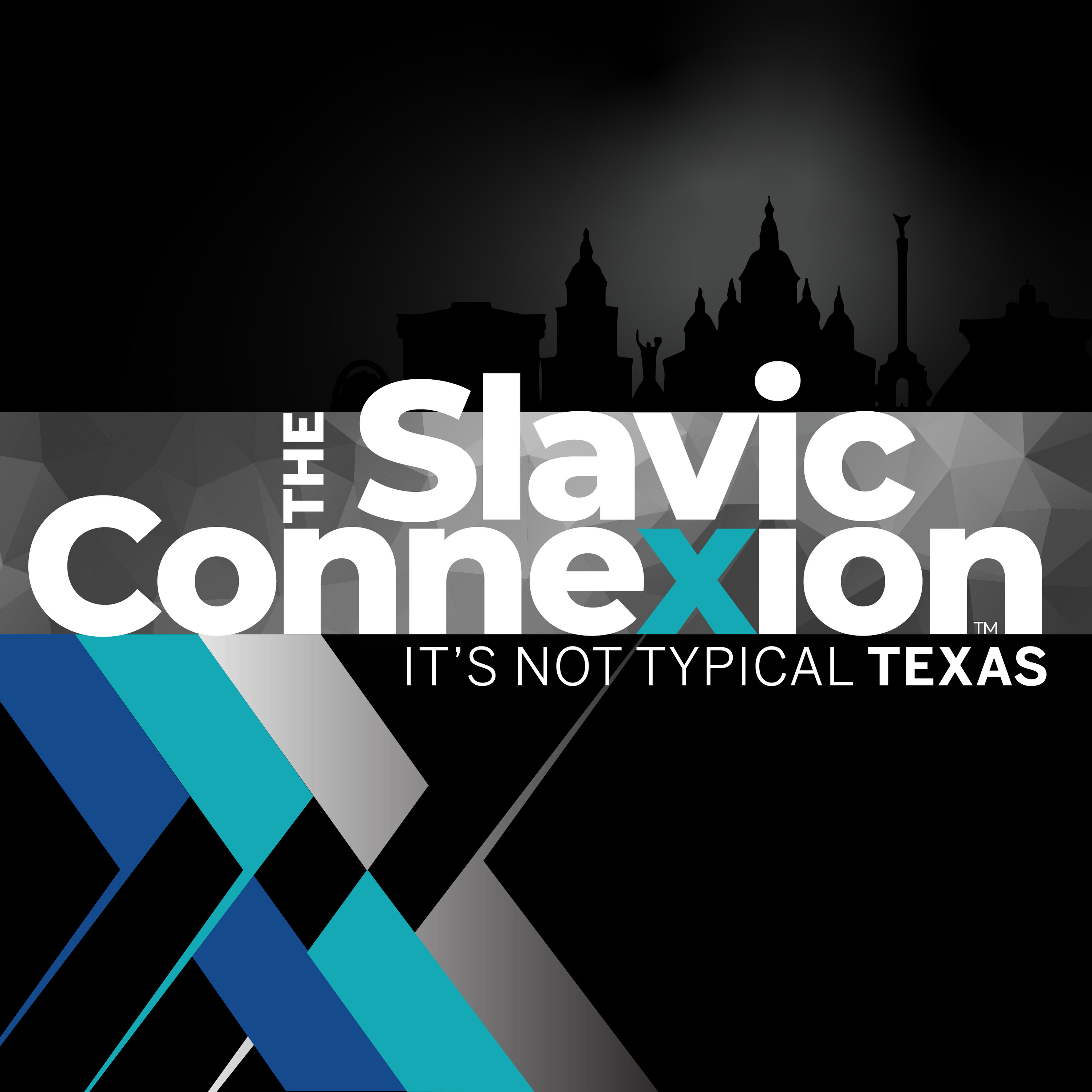 On this special episode, Sergio and Misha get the opportunity to speak with Sasha Zaritska, the lead singer of U-pop band KAZKA, and Andriy Urenov, producer and manager of the band. Their new single "Bez Kohannya" (Without Love) is out this Friday! Listen to the end of the episode for a sneak preview. Learn more about KAZKA and check out their music on their official site
https://kazka.band/en/
. To watch an amazing concert given in the Kyiv metro by Kazka in late 2022, follow this link:
https://www.youtube.com/watch?v=yjE9fmy-0f0&t=1247s
PRODUCER'S NOTE: This episode was recorded on March 21st, 2023 at The University of Texas at Austin. Special thanks to the Liberal Arts Instructional Technology Services at UT Austin, in particular thanks to Jacob Weiss and Jared Marxuach. If you have questions, comments, or would like to be a guest on the show, please email
slavxradio@utexas.edu
and we will be in touch! CREDITS Host/Associate Producer: Sergio Glajar Host/Assistant Producer: Misha Simanovskyy (@MSimanovskyy) Associate Producer: Lera Toropin (@earlportion) Associate Producer: Cullan Bendig (@cullanwithana) Assistant Producer: Taylor Ham Admin Assistant: Eliza Fisher Supervising Producer: Katherine Birch Recording: LAITS, Jared Marxuach Editing and Sound Design: Michelle Daniel Music Producer: Charlie Harper (@charlieharpermusic)
http://www.charlieharpermusic.com
(Main Theme by Charlie Harper and additional background music by KAZKA, provided courtesy of Andriy Urenov) Executive Producer & Creator: Michelle Daniel (@MSDaniel)
http://www.msdaniel.com
DISCLAIMER: Texas Podcast Network is brought to you by The University of Texas at Austin. Podcasts are produced by faculty members and staffers at UT Austin who work with University Communications to craft content that adheres to journalistic best practices. The University of Texas at Austin offers these podcasts at no charge. Podcasts appearing on the network and this webpage represent the views of the hosts, not of The University of Texas at Austin.
https://files.fireside.fm/file/fireside-uploads/images/9/9a59b135-7876-4254-b600-3839b3aa3ab1/P1EKcswq.png
Special Guest: KAZKA.
S2 Ep3 – The Art of Writing for TV: A Conversation with Writer Sean Collins-Smith
–
How the Arts were Won
A "quietly intense" chat about TV storytelling + a bts glimpse into being staffed on a series, with writer Sean Collins-Smith (Chicago PD). BONUS CONTENT, YOU'RE WELCOME: a brief exploration of Peggy from Mad Men.